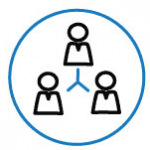 COMMUNICATION
We're adamant about streamlining processes and having the right people do the right tasks. This means certain details – like which budgets and cost centers are to be affected – should be entered by those closest to the transaction. Asking your accountant to guess at this operational detail is a recipe for head-scratching when financial reports are released.
Mobile Apps
Our integrated mobile apps allow you to unambiguously push detail to your accountants, while avoiding the inevitable delays and errors that would result from rekeying emailed data into your accounting system. These tools also allow you to quickly pull the information you need, even when you are in the field – so you don't have wait for answers.
Email, File-Sharing & Social Networking
We won't clog your inbox with email. Email has its place but we don't use it as a primary form of communication. Instead, we outfit you with online tools that minimize the inefficient use of this and other, unstructured communication. For simple file sharing, we use a secure cloud service of your choosing (e.g., Box, Dropbox, OneDrive).
Skype & Web Conferencing
Since we're not sitting in the same office, Skype and other Voice over IP (VoIP) tools like WebEx and GoToMeeting are an ideal solution – actually, in many ways, they are better simply because they allow spontaneous chat and video conferencing that would otherwise require a meeting and conference room to be scheduled.