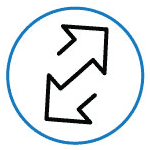 ACCOUNTS PAYABLE
If you like discounts then you should pay suppliers promptly. SoPro uses technology to streamline your accounts payable process, while improving internal controls. With our online payment gateway, your bills are automatically routed to us for coding and downloading into your accounting platform. You view bills online and prioritize which ones to pay electronically. We'll also process employee expenses, to ensure your staff get reimbursed quickly.
How it Works – Purchase Order to Payment Process
We link your bank account and credit cards to a secure payment gateway
We coordinate with your vendors to send bills to the payment gateway
We assist you in creating purchase orders for other suppliers
Your SoPro accountant downloads and codes the items
We attach all documents available to the transaction
Any non-compliant expenses are flagged for additional review
The information is then routed to you for approval
Once approved by you, a designated SoPro user releases payment online
Benefits of Purchase Order to Payment Process
With at least two levels of role-based permissions for payables, you remain in complete control of what bills get paid when. Each proposed payment contains a link to a scanned invoice so you know what you're paying for. Once paid, the vendor, bill, and transaction amounts are synced between your bank account and accounting platform – eliminating re-keying of data. Our efficient bill payment workflow, along with a procurement audit trail and accounts payable review, help reduce risk of fraud and enhanced accuracy of financials.