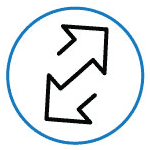 ACCOUNTS RECEIVABLE
Some transactions must be processed on time or they impact cash flow. A prime example is invoicing customers, which should be conducted without delay. The longer an account ages, the more difficult it becomes to collect the full amount due. With our outsourced accounts receivable process, we create sales orders and invoices, track receivables, oversee collections (if needed), and prepare reports you can use to keep tabs on who's overdue.
How it Works – Sales Order to Cash Process
We assist you in creating sales orders for your customers
Once products or services are delivered, we turn sales orders into invoices
We send invoices and statements to customers, after your review (if needed)
We record sales in Accounts Receivables until the invoices are paid
We apply payments received from customers and close out their receivables
We give you detailed aging of customer Accounts Receivable balances
We can also help you with collections
Benefits of Sales Order to Cash Process
A strong sales order to cash process will improve your cash flow by ensuring invoices get out and are paid by customers in a timely fashion. For collections, we can use your email platforms for a consistent brand experience and answer the phone just like one of your employees. We can also set up lock box services with your bank, so you'll gain access to your customer payments more quickly, while reducing your risk of fraud related to deposits.