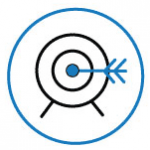 CORE VALUES
We won't give you a long list of values or a nifty acronym to remember them by because there's only one thing that's truly "core" to us:
What's in the best interest of your company
The rest, as they say, is commentary. Given the responsibilities our clients entrust in us, we simply wouldn't exist without integrity and accountability. And like you, our team must be highly professional and collaborative, if we're to function at all.
On the other hand, doing right by your business is at the heart of everything we strive for, which ultimately benefits investors, customers, employees… everyone. That's why you can trust our team to always act in your organization's best interest.