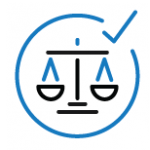 ACCOUNT RECONCILIATION
Do your audits take forever? How closely do your year-end management reports agree with audited results? It could be your finance team is not adhering to GAAP or a thorough month-end-close process. Reconciliation of each balance sheet account is a critical control for ensuring an organization's financial integrity. For instance, reconciliation is used to verify money leaving your bank account matches the actual payments approved by you.
How it Works – Account Reconciliations
We set up your bank and credit card transactions to download into your accounting platform. This speeds up month-end close, captures more detail than you would enter manually, and eliminates double-entry.
We review statements and reconcile un-cleared transactions to ensure your balance sheet is correct or enter any cash transactions that were not previously recorded accurately in the accounting platform.
We set up your accounting platform to remember coding used for each vendor. This default coding saves time during the next period and helps ensure your accounting is done consistently.
Benefits of Account Reconciliations
Reconciliations help mitigate the risk of fraud. We can match the payee on every cash transaction against your bank or credit card statement to verify the right vendor was paid. Reconciliations also lead to more accurate financials. By reconciling balance sheet accounts each month, we can help ensure your books remain audit-ready, twelve months a year!