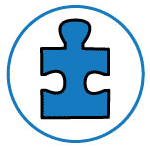 FREQUENTLY ASKED QUESTIONS
You seem to specialize in Social Enterprises, is that true?
Yes. We tailor our services to social enterprises because we like working with organizations that are trying to use commercial strategies to crack a big problem (e.g., poverty, illiteracy, etc.). But we serve other clients too and our well-trained staff can meet most finance and accounting needs for companies making between $2 million and $22 million a year. Fill out our Assessment Form and we'll figure out whether there's a fit.
What is a Social Enterprise?
A social enterprise is an organization that applies market forces to create social impacts, usually by selling products or services that address a social need (e.g., irrigation pumps that help farmers make money and escape poverty). Social enterprises can be for-profit or non-profit – depending on the degree of their profits and impact and which form offers the lowest cost of capital.
What's the difference between outsourcing and hiring in-house staff?
Hiring an in-house accountant to manage all of your needs is like expecting a middle manager to be both the CEO and receptionist. You'd pay too much for answering phones and have an overstretched CEO to boot. When you outsource to SoPro, we assign the right people the right tasks, combining accredited accountants and a share of experienced Controllers and CFOs.
Instead of relying on the availability of a single generalist, you work with a team of specialists
You avoid the disruptive cycle of hiring and training in-house accounting staff
You get the expertise you need in a scalable solution that grows with your business
You reduce your risk of fraud while ensuring the continued security of your confidential information
How can outsourcing result in better work and cost less?
We operate at scale and use efficient systems to provide higher value at lower cost than in-house staff. For example, we assign duties to our team based on skills necessary for the tasks and then scale your team to include a fractional share of each resource you need. The result is that when you outsource CFO work to us, you pay only for CFO quality work. By comparison, an internal CFO normally performs a range of activities, some of which are not CFO-level. Working with SoPro, you'll avoid this and many other hidden costs of in-house staff:
Oversight Cost: simple errors of categorization, classification or coding on important reports and documents
Cross-training Cost: hiring and/or training back-up staff to avoid over-dependence on any one accountant
Personnel Cost: turn-over, recruitment, training, absenteeism, supervision, salary, benefits, etc.
Occupancy Cost: rent, utilities, maintenance, security, cleaning, etc.
FF&E Cost: computers, phones, equipment, filing cabinets, tables, chairs, office supplies, etc.
Business Continuity Cost: disaster recovery plan, failover, site back up of servers, etc.
SoPro must offshore some of its work, no?
Of course. And here's why you should too: Certain accounting activities are so well structured and the skills needed for them are so abundant, that it makes no sense to complete these activities in the U.S., when technology allows them to be performed securely by better trained and less expensive accountants abroad. You're much better off saving your stateside spending for strategic financial inputs that can significantly impact business success. That's what SoPro offers. On U.S. soil, our trained group of CFO and account managers provide the proactive financial leadership your company needs to scale, while overseeing cost-effective transactional work performed by accredited accountants at our service center overseas.
What about security?
We are CFOs and Controllers after all – so our M.O. is to "trust but verify". Naturally, we write disciplined processes, review your month-end close, and implement internal controls to help deter theft. However, our primary defense is to try and eliminate opportunities for fraud in the first place. We help accomplish this by separating duties within your accounting function and using role-based software to strictly enforce permissions and workflow. You control who has access to your data, which is stored in the cloud where we utilize the same level of encryption that a major bank or the IRS would use to process information.
Will we be able to meet face-to-face?
Yes. CFO's and account managers will visit your office during the onboarding phases to transition your services to our platform. Additionally, CFO's may assist with white-boarding, strategy sessions, and attend fundraising or board meetings. But if you outsource accounting to us, the day-to-day transactional work would be performed remotely, which allows for more efficient allocation of our staff time and resources.
If I hire you, what happens to my current staff?
We have the ability to manage all or part of your finance and accounting. If you don't want to completely replace your in-house staff, we can take over certain activities, so you can consolidate resources on other aspects of your accounting. Or we can provide just Controller or part-time CFO level services, if you wish to retain your full accounting staff and hire SoPro to assist with quality control or strategic finances.
Won't we always need someone in the office that staff can turn to for assistance?
Not necessarily. Think about how you currently interact with your finance team. Chances are most of your communication is by email or phone. Those are the ways you will interface with SoPro too. Moreover, SoPro helps reduce the need for face-to-face meetings by defining processes, criteria, and accountability that help devolve decision-making. With clearer role definition, the finance function can cease to be the de facto gatekeeper for a number of administrative decisions.
Will you replace my current CPA or Auditor?
No. Consider us an alternative to an in-house CFO, Controller or staff accountant you would otherwise hire directly. We are on your team and thus not independent – and so cannot conduct an external audit of your statements. (Indeed, an independent audit is an important check on our work for you!) Income taxes require specific expertise from a CPA firm that works full-time on these filings. We are not a CPA firm. However, we can partner directly with your CPA or auditor and make their work easier.
What software programs do you work with?
SoPro is comfortable working with all accounting programs, including those popular among smaller operations such as Xero or QuickBooks as well as broad-based ERP systems such as Intacct or NetSuite.
Who owns my data?
You remain the sole owner of all your data – and always have password-protected access to it – even if you terminate our services, which you may do at any time.
What happens if I want to bring finance and accounting back in-house?
Your business success could mean you outgrow our outsourced services. When this happens, we proactively support your transition to permanent, in-house staff. Getting you from here to there is what we love to do!