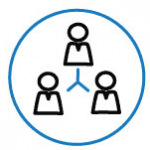 SERVICE CENTER
While SoPro is based in the San Francisco area, we're proud to say our accounting service center is in Nairobi, Kenya, where the talent pool for accredited accountants is large and the cost is relatively small. SoPro's founder, Sam Hartwell, moved from the U.S. to Kenya, while he was CFO of KickStart International. There, Sam witnessed the deep pool of hardworking, accounting talent and met his current business partner, Joe Gichuki.
All of our accountants have CPA training and a minimum of five years work experience. They are thoroughly vetted and competitively compensated because they're at the top of their game. They are not just data entry clerks; they understand accounting, records, and reports. And, to top it off, before your books are closed each month, we provide a thorough review by a professional Controller who "owns" their work.
This type of "impact sourcing" is part of a larger outsourcing movement (see Outsourcing) and is integral to SoPro's mission to generate professional, middle-income employment in socioeconomically disadvantaged communities. It also allows us to give your accounts a much higher level of effort and oversight. You won't find our accountants gossiping at the watercooler. They get down to business because we're the best game in town.