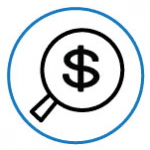 COST CONTROL
Sometimes, companies lose control of their costs as they focus on product, sales or operations. SoPro helps you stay in control with tools that give better foresight of variances and options for dealing with them. It starts with a budgeting process that considers not just the activities you plan but also the outputs and outcomes – so you can allocate resources in the context of what impacts or business value is created. Then we help manage efficiency – e.g., cost per output – through rolling forecasts and procurement.
How it Works – Cost Control & Budgeting
We develop budgeting and procurement processes that fit your business needs
We compare your gross margin, overhead, and other fixed costs to industry averages
We assign budget managers and give them control over variable expense approval
We monitor performance against budget, productivity, and efficiency targets
We continually update spending and other assumptions, to revise expected results
We help keep profits healthy by increasing sales or margins or by reducing fixed costs
Benefits of Cost Control & Budgeting
SoPro helps to control costs and avoid volatile performance that plagues many enterprises. Because we understand how important budgeting and procurement are to reliable results, we will help you set up these accountability structures, while giving budget managers the contextual reports and dynamic tools they need to adjust assumptions, activities, and spending – in order to keep performance aligned with company expectations.