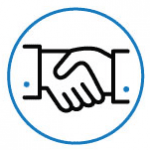 ONBOARDING PROCESS
We've nixed the difficult parts of building a full-service finance team, so going SoPro is easy!
Step 1:
We discuss business drivers and prioritize your needs. SoPro then assigns to you a dedicated team, including a US-based CFO and Account Manager who work seamlessly with accredited accountants and a highly skilled Controller from our accounting service center.
Step 2:
We begin optimizing your processes, integrating systems, documenting roles and procedures, and defining service levels you can expect from us. We'll also create specialized reports and Key Performance Indicators (KPIs) based on your industry and business needs.
Step 3:
Your SoPro finance team handles your accounting day-in and day-out. We process all of your transactions, reconcile balance sheet accounts, forecast cash flow, and schedule CFO calls to comprehensively review your month-end financials.